Hi,
This youngster is doing quite well. I did nearly lose him in the first week when the first large canker pieces came away and he bled quite badly, but he pulled up.
He's still on Flagyl for another few days to take it up to fourteen in total.
He still has some new canker appearing on the lining of his mouth which I've been treating with topical application of Flagyl. It's a bit clearer today.
Also he still gets some mucous in his throat, I'm hoping this clear before the meds finish.
I haven't let him go back to self feeding seeds yet as I'm worried they might get stuck in his throat if he's still producing mucous so I tube feed him Kaytee four times a day.
The one thing I wanted to see if I could correct if at all possible is his deformed beak. It doesn't meet and I'm concerned this will deem him unreleasable if he has trouble picking up seeds.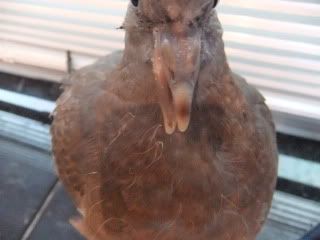 As he's still a youngster the beak hasn't changed yet to the adult yellow so is still fairly flexible. When I have him out to feed, I sit and hold it gently in the correct position for around 10 minutes at a time and he tolerates this well.
He can obviously breath ok like this so I was wondering if I was able to secure it in the right position with a band (or something like) for short periods of time between feeds while he's resting, what are the chances of it helping to re-position the lower beak while he's still developing.
I do think there's been a slight improvement through just holding it in position for a few minutes, but it's still not closed fully. I'd hate to miss an opportunity of helping him if it's possible but obviously don't want to hurt him in any way.
Any thoughts?
Janet