I live in the top left part of Tasmania Australia and we get many Goshawks here. But there is a rare one. It's known as the 'all grey' version of the Goshawk and I read that it is the only all
white bird
of prey in the world. Hmmmmm, I thought that was pretty amazing but even more so is the fact that
last count shows less that 110 breeding pairs are left in the world
.

And we have one sitting right here on our telegraph pole
. It is nesting it seems in the tree we lovingly here call our "Australia" tree because it looks like a map of Australia. These pics were taken before I got a better camera but it will give you some idea.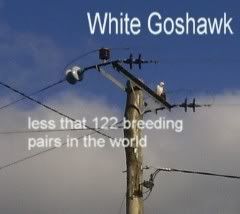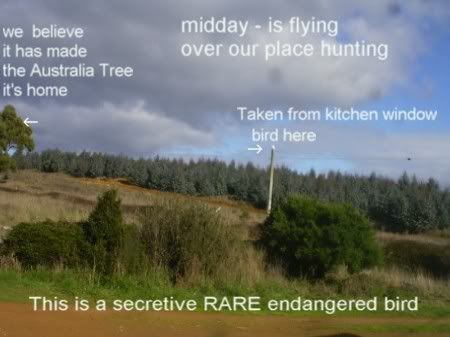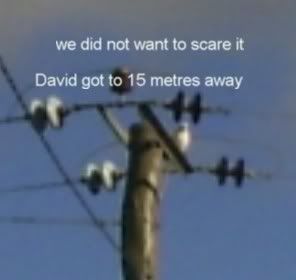 We will be watching this bird carefully as they begin breeding this month. But can it find another white Goshawk, if not, they will occassionaly breed with a brown Goshawk.
Here is some great info on the species AND A LOVELY PHOTO
http://www.fpa.tas.gov.au/fileadmin/...ey_goshawk.pdf
My Mum lives next door
and caught this amazing bird on video at close range for about a minute, sitting on her back fence
and sizing up her pet blind wallaby that has safe haven in her yard. But her wallaby is too big now for this size of Bird of Prey to take though we just stopped a Wedgetail eagle from taking the wallaby two weeks ago. Mum ran out into her yard screaming just as the eagle was stalking up to the wallaby. She watches it pretty much all day so that if it gets out in the middle of the garden, she shooes it back under cover.
love and light
Susan in Tasmania Australia
HOW EXCITING!!!!!!