Hi There..
Im a new to this forum, and I found my way here by looking for help for this baby pigeon.
This healthy baby pigeon about 12-15 days old has suddenly lost appetite, and seems to be sleeping all of today.
Background
.
One morning, I left an empty box with foos (which originally had mangoes), in the balcony of my apartment, and when I returned back home, I saw a pigeon sit in it. I decided not to bother it, and let it be.
Next morning I got a closer look, and found the Pigeon laid 2 eggs.
So I decided to leave some water in a bowl and rice with yellow lentils in another bowl. Same evening I bought a pack of Bird Pellet mix, essentially green and red millets, some tiny black things, oats and some pink and green clay like things.
All seemed well - a week passed, one egg hatched.. and the mother was protective about her child and would rarely leave the box. I kept arranging for bird mix, with rice and lentils in a small dish across the box with a separate bowl for water.
A week later, I realised this baby grew up pretty quick while the other egg didnt hatch yet. Now the mother would no longer sleep at night in the box.. instead a few feet away from it. Every morning when I went to leave water and food, the baby would notice me come, and try to Peck me Bite me.. it was adorable!
I didnt think too much of it, and ensured the daily arrangement of food and water.
> After about 10 days, I read an article on FB of Viruses, Bacterias and especially parasites in dry pigeon poop are critically dangerous to humans as they affect the respiratory tract and keep latent for prolonged periods eventually resulting in all sorts of diseases.
Yes I decided to do something about it. It was my day off from work, and i went to the balcony.. I noticed the mother had flown out.. I saw the box, there was a hell lot of dried bird poop there. I lifted the baby and the un-hatched egg, and kept them in the other end of the balcony.. while I changed the foos in the box, cleant the box.. and cleant the flooring around it with disinfectants.
While doing this, the mother came by and noticed the destroyed nest.. and baby not to be seen.. hovered a bit and flew away.
>
THIS WAS A BIG MISTAKE!!!
I setup everything .. put the baby in the box.. but unfortunately stamped the other egg.. which released some horrible fluid and very strong and nasty odour. I quickly wiped the fluid, and packed the egg in a plastic bag.. and discarded it.
Now, the mother didnt return that night.
I was concerned about the baby.. and didnt know what to feed it. I took it close to the pellets and water but it refused to eat or drink. I tried for some time but nothing worked.
As it was getting late, eventually ...
>
I bought some rice flour and Lentil flour from the super-market, made a paste of it in water.. and put it down the babys throat with a giant dropper.
>
I repeated this the next morning as well, and left for work. I realsed the rice powder quickly solidified on the babys beak and was quite hard.. so I decided not to use it any more.
>
That evening, I force-fed the baby with rice by opening its beak with my fingers and dropping few grains at a time.
>
Next morning I noticed the mother was back.. but wasnt feeding the baby. Wasnt even going near the child. The baby pigeon klept on squeaking to its mother continously, but she didnt feed him.. and flew off.
Since force-feeding grains was very time consuming, I decided to defrost some peas .. and try feeding the baby with it.. but it didnt eat or drink anything readily.. I had to open its beak.. dump a pea in and shut.
I mustve forced in about 8-10 peas, 4-6 pieces of diced carrots, and few corn kernels as wel..
>
that evening, mother not to be seen, I decided to feed it with chopped apple (without skin). Must have fed it with about 1 TBSP until it looked away walked away.
i left it back in the box.
>
this morning, the mother returned, pecked her food, and flew away.. ignoring the child. However, the baby pigeon has been quiet and sleepy since morning today and didnt even call out to its mother. the mother has retuned many times, but neither have attempted to ask out.
Soemthing seems strange and I dont know what to interpret.
I have my day off, and I have made a video of this baby pigeon (linked), and a pic of its latest poop.
From what I see, it has no Canker.
Also I did notice it do something strange.. It looked down, and SHAKED ITS REAR quite a few times.. then stopped. Did this two times .. (very similar to what a dog does while trying to poop, instead shaking its rear).
P.S
>
im in abu dhabi, and trying to reach out to vets as I post this.
video Link to baby :
https://youtu.be/CnGIEZzjIO4
Poop pic 1:
http://www.imagebam.com/image/053e7c1236586514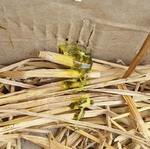 Poop pic 2:
http://www.imagebam.com/image/c626321236586574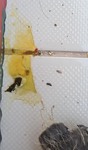 Poop Pic 3:
http://www.imagebam.com/image/559ee61236613284