Discussion Starter
·
#1
·
Hi,
I don't know if anyone can help me with this one. I took over the care of a fledgling Wren today which was caught by a cat. It's sibling died but so far this little one is doing ok.
The trouble is I've noticed one of his feet is deformed and he keeps losing his balance. He was only sitting in a flat box when I got him, so I've put some small sticks in his box to see if he can perch.
He manages with one foot but on closer examination, his other foot is curled up. From what I can tell his long back toe is lying forward and is possibly broken.
He is so tiny but is reasonably happy being handled as he's been hand fed for two days. I don't know how I'd do it but is there any point in trying to strap his toe in place to see if it can be encouraged back into position.
I wonder if he would even manage better without that toe because at the moment he has trouble staying on a perch as he can't put this foot flat. Then at least he would be able to wrap the front toes around the perch.
I've tried a photo. Just wondered if anyone has any advice as to how I can help his foot.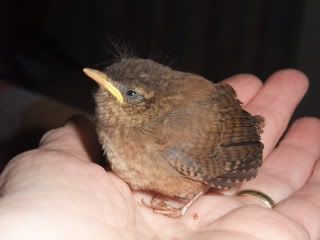 thanks.
Janet