Hi all.
My latest chapter has had me emotionally and spiritually tied up in knots for days now.
It had apparently ended so tragically, I didn't have the heart even to post it.
Story begins: upon releasing my trio of patients a while back, within a few days arrived a pair of juveniles feeding on my porch....looked like their first day out and about, actually. They both had striking orange/gold eyes and were filthy (probably didn't have a prime real estate nest location). Awfully cute and geeky though, as they tend to be. So they were amongst the adults, and I noticed one of them couldn't walk on one leg.
I went inside and figured "that's too bad..." then after a few minutes, I though "what the heck, I'll give it one shot...."
So I sprinkled seed on the porch and then my door threshold and then into my entry hall, and left the door open. Two older birds followed the seed inside, and then the injured juvenile followed them. Door closes quickly....they try to fly out my picture-glass front window and I grabbed the juvenile with a towel and put him in a carrier. came back for the otehr two, toweled 'em, and sent 'em back outside...reminding them not to fall for such a trick again (!).
So, Sparkles goes to the avian vet...his lower legbone broken cleanly in half. He gets meds,pain and aintibiotic...and he gets a cast. He gets to stay w/ me for 6 weeks of recovery.
The first week I keep him quiet and warm in the carrier 24/7, then afterwards I put the carrier outside on the porch so he can see his feral buddies each day, and also watch them forage for the seed as I figure he was barely weaned when I got him.
Weeks go by everything good. My foster King Pigeon, Gatsby (aka the "chicken") and he take a liking to each other. Gatsby has run of the house (to my parrots' dismay) and I often find him on TOP of the carrier watching over his little feral friend.
At week 3, I decide to let the guy strecth his wings, so he comes out a few times a day and hangs out w/ Gatsby on the kitchen shelves.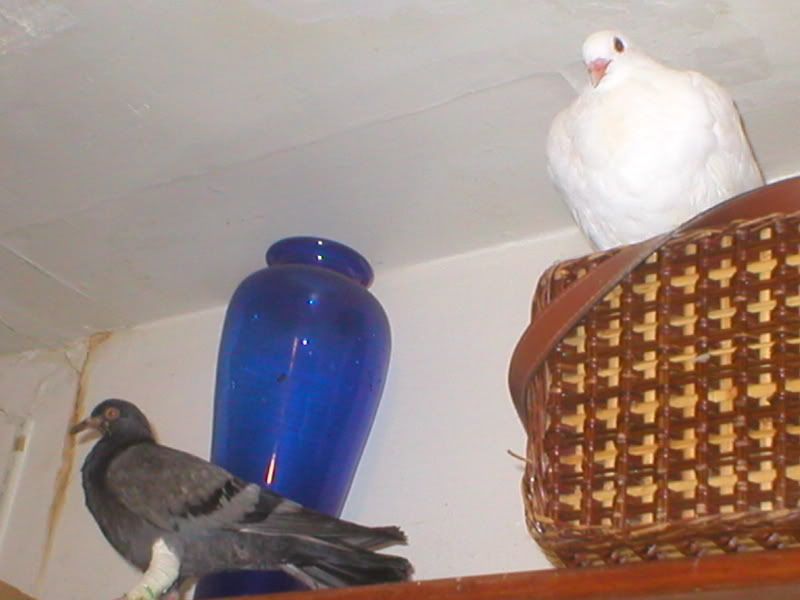 At this time, my GF notices they have developed a game whereby one of them flies fom the shelves into the carrier thru the top door...then the other follows and the first one leaves thru the side door (!) Great fun..so you never know who you'll find inside the carrier sometimes !
Last Saturday comes around...they are both out...I gather them up and put them in their respective cages/carriers. When I arrive back a few hours later, I put Sparkles' carrier out on the porch so he can hang with his homies.
I take a quick shower, come back and am about to put some seed out....
...carrier door is OPEN on the front porch...Sparkles is in the middle of a gaggle of ferals on the steps
Trying NOT to panic...I try to lure him in w/ seed again...but the flock is kinda jumpy and they startle several times...once it sends all of them up to the neighbors roof....a few minutes later, another startle sends all of 'em up and...away. ALL of 'em.