Discussion Starter
•
#1
•
G'Day folk. I would like to introduce Chook the Pigeon to you, because I need some help to help him a little more. (I am assuming Chook is a "he", because he growls but doesn't Coo or make other sounds.)
My second post has the request for help.
This is Chook, supervising some gardening at my place, in Melbourne, Australia.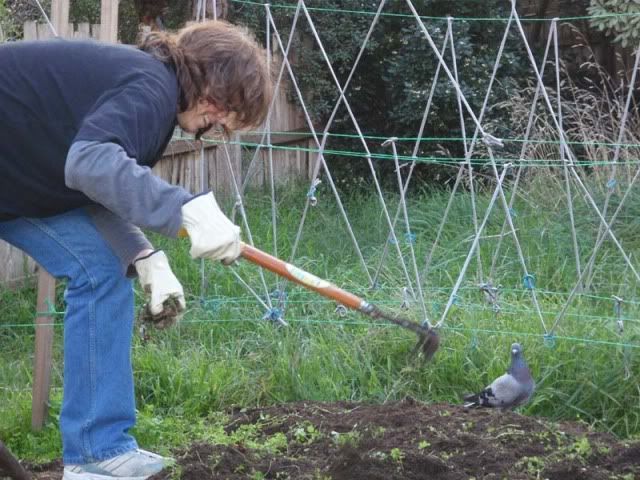 We called him "Chook" because my partner doesn't like "flying rats". That's my partner in the photo above. By calling him Chook, he has been reclassified as no longer a flying rat. Since Chook has been de-liced, my partner has handled, and even developed feelings for Chook, for which I am in a lot of trouble. Obviously the reclassification of Chook from flying rat hasn't been completely forgotten.
Chook came to me on March 17 2010, nearly fourteen weeks ago. He walked down my side path, passed me while I worked in the garage. I thought it was a bit strange that he just walked by, since I was making quite some noise. So I went over to check him out, and when he didn't fly away I herded him into the back corner of my garage, and finished the work I was doing. He inspected the garage, but made no serious attempt to leave, and settled down to sit in the corner and wait for me to go away.
I bought him some water soon after, but he didn't touch it. A couple of hours later I made a cardboard wall to put around him, so that I could inspect him and make sure he didn't injure himself in the garage, or wander off when I left it. He was obviously in need of assistance. When I brought him some Black-Oil Sunflower seeds that we had for wild birds, he didn't growl or try to get away, and even fed from my hand. Hence our current relationship started: I provide the food and shelter, he eats the food, makes a mess with his poops, and enjoys the safety of my protection. Neat for him, but I would love for him to be able to fly again, and be an indepedent bird.
Once Chook (un-named at the time, but I was thinking of "Paco", until the flying rat issue came up) had settled down properly I gave him a thorough inspection. He had no blood on him or broken skin, and I could not find any broken bones. In fact, the only marks on him were a slight ruffling of the feathers in two spots on his left side. One on his back, the other on his chest. He could flap his right wing, but not his left, and made no attempt to do so. I could stretch out both wings, but doing so to the left seemed to cause him some discomfort. Although he didn't like me doing it to the right wing either. I checked all of his wing bones very carefully, and could find no break or significant swelling. His left elbow (between the Humerus and Radius/Ulna) did seem a little large, but not much different to the right side.
My conclusion was that one of my neighbours small dogs had got hold of him, and that the ruffled feathers were where its teeth had hold. Therefore I thought that he may just have had soft tissue damage of the wing muscles, or perhaps some shoulder damage. Or he was just old and worn out.
Considering his state of indifference to me, I think he may have been living out in my back yard for a while, and had only wandered out when he got very hungry. Since there is quite a bit of long grass that had gone to seed in the yard, and cover from preditors, I thought a pigeon could live there for quite a while without starving or being attacked.
Given that Chook is just a feral pigeon (forgive me), I wasn't going to take him to a vet for an X-ray or treatment. But I thought I would give him a little comfort in what seemed to be his last days, while allowing him to remain a wild pigeon. Well that didn't work out!
I moved him to the back verandah for a week, feeding him on wild bird mix and the sunflower seeds. During that week I also moved him out on to the grass in my East side backyard, with a wire screen over the top of his open air box to protect him from predators. Just as well, because a family of magpies thought he would make a good feed, and sat on the wire for hours trying to work out how to get in. He thrived, but his wing didn't get any better, and he made no attempt to use it.
The following week I let him out of his box every day, and put him back at night. I figured that if he was taken by a predator, he had at least had a chance to get better, and perhaps get away. We don't really have hawks around here, but the Magpies and Crows will kill him if they can. He wasn't going anywhere.
So the next week I made a covered cardboard box for him, with a small door at front. I started opening it every morning for him, and closing it once he was back in at night. That box has been insulated and waterproofed a bit since so that he has a warm and dry place to hide and roost, since it is Winter here. I put a piece of rough wood in the box for him to perch on, and he loves it. Originally his box sat on the back verandah, but we have since moved it to a protected spot in the garden, not far from the verandah. Chook loved having his box next to the back door, under the cover of the verandah, and took a little while to get used to having it in the garden. But now he knows that is his home, and he seeks it out when trouble (Magpies and Crows) is about. Here he is in his box. Note the drooping left wing.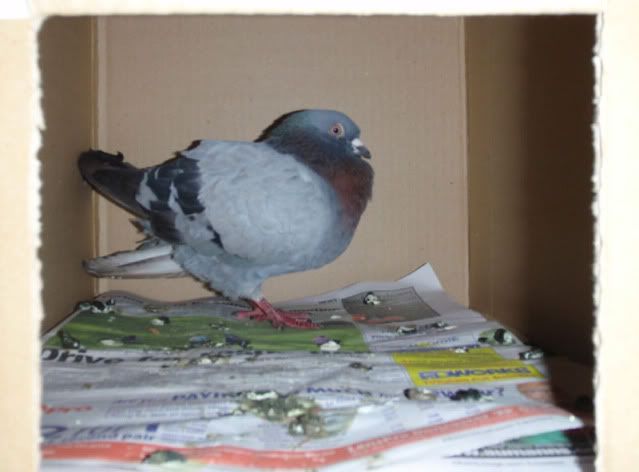 He has since had another run in with a different small neighbourhood dog ( I saved him, and he was grateful, sitting quietly in my arms while I introduced him to the dogs owner), been stalked by a cat who used to think it owned my backyard (but now seems to have been disposed of by his owners), and I even found a different cat sitting next to him on the back verandah, grooming herself, while Chook stood bolt upright and frozen stiff less than a metre away. It seems it just isn't his time, so I have a pet broken pigeon in my life. Well, our lives, since my partner now loves the little fellow.
Since he was staying I got a spray to kill the lice he had. His left wing had a lot of lice on it, particularly under the wing. I did wonder if they could have been the cause of his problems. Someone may care to comment.
We worried about Chook a little as he was hiding in his box all the time except when he was eating and drinking. So we "encouraged" him to come around to the West side backyard while we worked in redeveloping the vegetable garden. Once again, he loved it, picking a post to sit on and watch us. He worked out that we wouldn't let him go back to his box while we were working (although he tried all sorts of ways to get passed us), and we worked out when he wanted to go back to eat or get water, or when he thought it was bed time. Meanwhile, he did a regular inspection of the garden bed we were digging, and even occasionally scrounged around and found something to eat.
During the first week we took him out gardening he really wanted to fly up to the roof, looking up there a lot, and bouncing up and down preparing to take off. I only saw him try to take off twice, and his left wing did nothing, so he crashed onto the ground. When he first came to us, it took Chook and few weeks, and many hard landings, to work out that he could no longer even jump down from more than chair height off the ground without hurting himself. One of those attempts was from 2.5 metres onto concrete, which at least taught him not to try big heights again.
Chook now loves to walk around to my West side back yard and bask in the sun during the day. Although he seems to prefer sitting on the back verandah on the East side just as much in the last week. I actually think Chook was half of a pair of pigeons that regularly visited my West side back yard. I haven't seen them for some time, and Chook appeared from there, so it is a reasonable assumption. We leave Chook to fend for himself during the day, and we will both let nature take its course if something gets him at some time. Of course, if that happens I will be in trouble with my partner, but those are the risks I must take.