Hi everybody, been away for a while, mum was sick so was staying with her.
We had a cage and flight made for Noddy a while back but as we were away he was stuck in his old cage, but we're back home and I finally got pix taken, don't mind the date my husband and I aren't tech people
Anyway before we left to my mum's a young dove got into the "hall" area thingie of Noddy's flight and I let her in and kept her. I know that's kinda cruel as she's a feral but I was getting desperate! I hated Noddy being alone all the time and those of you who have followed his story know how unlucky he's been with all the companions we got him. So Linda has been with Noddy for about 2 months now and things seem fine with them, I'm hoping Linda is a she!
Before we got Noddy my husband used to tease me saying Noddy's flight was solitary confinement
well now hopefully it's not and all goes well. Still feel guilty about imprisoning Linda but seeing Noddy all alone was heartbreaking
I'll put a couple of pix here, the rest will be in my photo album for those of you interested.
This is their indoor cage: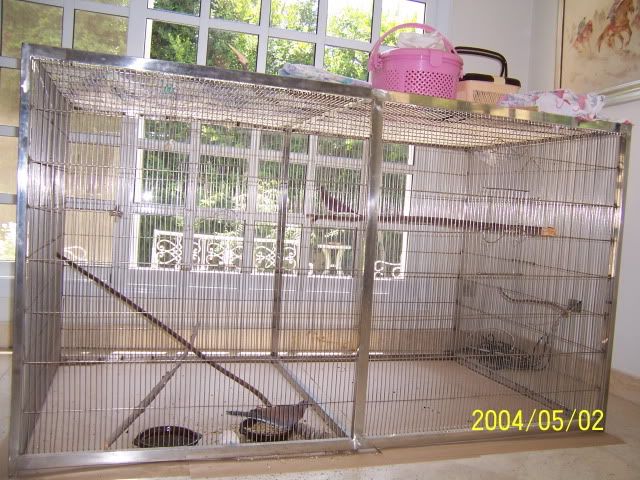 This is "Noddy's Palace", their outdoor flight: (I keep getting an error message saying I've included 5 pictures, so here's the url)
http://i51.photobucket.com/albums/f380/hindrenaline/Picture227.jpg
I let them out during the day but before dusk (when mosquitoes are out and about), I let them in, is that ok do you think?