Discussion Starter
·
#1
·
Hi,
Just rushed home with a baby dove. It was just left in a cage, it's wings outstretched and breathing very weakly through it's mouth.
I grabbed it and drove back to put it on some heat. It's started to perk up and now it's warm has taken some sips of rehydration fluid dripped along the side of it's beak.
I can't see any injuries although it's tail feathers are a bit straggly. It is even stretching it's wings out when I pick it up.
I haven't had a baby dove before and wasn't sure how old it is and therefore what to do about feeding. It has the beginnings of a ring at the back of it's neck but looks very young.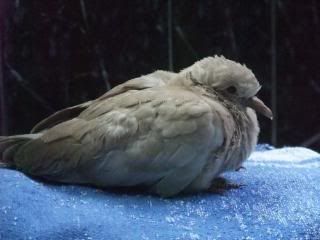 Oh and it's just done a white only poop.
It's head is shaking quite a bit at the moment but it is sitting up better now.
Any advice as to when and what to try to feed it, thanks.
Janet