Discussion Starter
·
#1
·
Hi,
I had posted this question previously in another thread about this bird but had no replies.
I'm posting again in it's own thread as I don't want to have missed an opportunity to help this bird's beak if it is possible.
This Woodie juvenile came to me with severe canker and has responded well so far and the canker is reducing. However it's beak is deformed and as it's still not developed it's adult coloured beak I wondered if there was anything I could do to correct the misallignment.
If not I fear the bird will be unreleasable and so I'd need to start looking for a permanent home.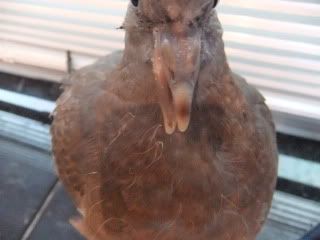 Since I took this picture the gap doesn't seem quite as big but I think the top beak is starting to curve downwards. If anything it would be a lot better for feeding if only the beak was more aligned.
Can anything be done to help?
Janet