I love this; you have a whole forum here titled "Stories". Awesome.
I've been considering how to write this so as not to bore those already familiar with some of the details. Whether fact or fiction, a story is meant to be entertaining (of course that may be the Irish in me).
So, lets start with a cast of characters. I can't really tell a story without including everyone, it's all about dynamics, but considering this is a pigeon forum, lets start with Ollie. She has a complicated beginning that is no doubt familiar here.
Ollie is my rescued Rock Dove (yes, I know they're called Rock Pigeons now, but if I use the term "Rock Dove", people don't treat me like I have the plague with wings). I found Ollie outside the mall doors across from my office tower in downtown Edmonton, Alberta, at the end of September 2008. Two weeks after my birthday. He was about two-weeks-old, with enough posturing attitude to keep mall security at bay for three days before maintenance was called to dispose of him. Which is when I scooped him in a box and he spent a quiet afternoon (not counting the fire drill) under my desk in one of the largest law firms downtown.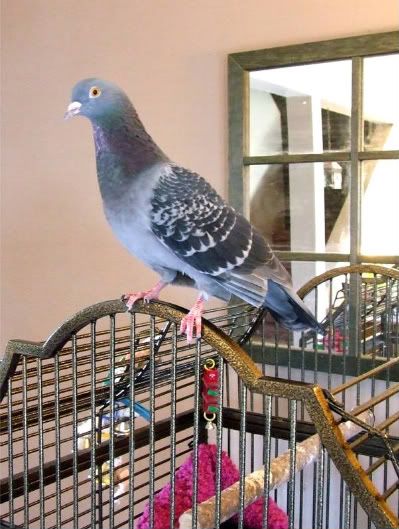 The Wildlife Rehabilitation Society pronounced Ollie healthy, but wouldn't take pigeons because they aren't considered indigenous and they have limited funding. Ollie would not have been flying or acclimatized in time for winter and by spring, Ollie was terrorizing the dog, stalking cat tails and addicted to bells. Three days after Easter she laid her first egg and became "Olive" rather than "Oliver".
Believe it or not, Ollie's best buddy in residence is my oldest cat, Darby, who sleeps by her cage and purrs ecstatically when she comes out and with whom Ollie plays Tail Tag. Darby is a 14-year-old long-haired calico from the SPCA, who has been called my "familiar" by outside sources.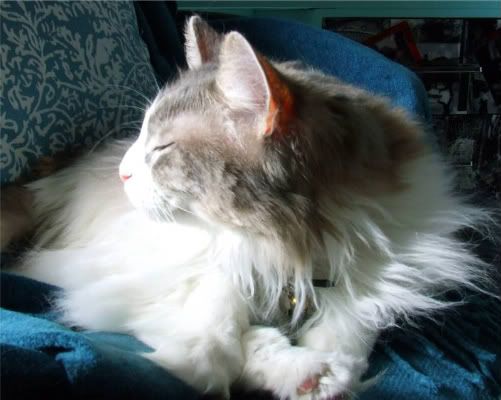 Chase, my 13-year-old long-haired blue tortoise-shell, is also a rescue and despite never having twitched wrong, is the wild card of the pack. She is beautiful, I can hold her like a baby and she purrs me to sleep, but there is something about Chase that on occasion inspires a nervous laugh.
Max. In the last month, I've been calling Max, my 6-year-old Cocker Spaniel/Bichon (think Cocker Spaniel with a bad perm), the "bug eater". Those of you familiar with Bram Stoker, know who I'm talking about with no explanation needed. Max, who is trained with both verbal and hand commands, has completely lost his little brain in the last month because of Joule (as yet to be introduced). He's jealous; I'm just not sure of whom and I don't think he knows either.
Joule is the baby brat. Joule is the proverbial fly-in-the-ointment. Joule is a 4-month-old Black-Headed Caique who is inspiring all kinds of mayhem and mutiny within the ranks. She knows her step-ups, potty, come and go, and we're working on "drop it". She's very quick at picking up whistles (including whistling for the dog).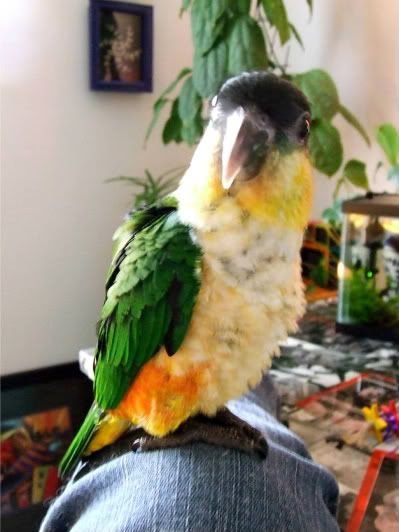 Finally, just for added colour, there is Whyo, Spica and Nila, my cast of Giant Betta. And if you got through all that, kudos! That's the basics. I promise my posts will be more… concise in the future.