Discussion Starter
•
#1
•
I found these two doll babies nestled under Malio this morning
Yep! You've read that right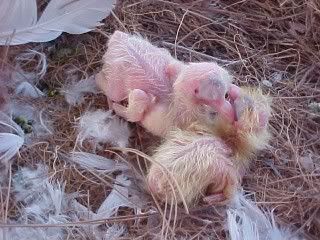 And now for the rest of the story.​
I went to clean the aviary this morning & spotted a half (empty) eggshell on the platform perch. I had just walked by Sadie's nest & it was empty.
I knew that Malio utilizes that 'perch' the most, so I went to investigate their nest, before checking Pij'ette & Mikko's nest.
Both Sadie & Malio were sitting there proud as peacocks. I scooted Malio over a bit & there it was, a little
blonde bottom
facing me. I was dumbfounded. You could have knocked me over with one of their feathers.
Apparently I didn't check the basket often enough.
Excited to no end I called Chuck. As we were talking I thought I better check to see if there was another egg. There wasn't. BUT, there was another baby.
There was no evidence of any shells when I cleaned the aviary yesterday morning, nor was there any when I did my last rounds about 8:30-9:00 last evening.
As I was downloading a couple pictures of the babies, Kim called. Of course I had to send her the pictures.
She asked if I would sticky this thread & post daily pictures while the babies grow up. If there's any objection to this, I'll be happy to remove the sticky.
Cindy