Discussion Starter
·
#1
·
It truly breaks my heart to make this announcement.
Shi (Mr. Squeaks) passed away at 1:30 this morning.
She called me yesterday afternoon about 1 stating she was feeling quite ill.
I was with my husband who was having a chemotherapy treatment and told her I would come over as soon as he was settled.
When I arrived at her place she was very short of breathe and had clinical signs of a possible heart attack.
I called 911 and it was determined after an initial exam that she be transferred to the hospital immediately.
From the emergnecy room she went straight to the cardiac cath lab to check her arteries. A blood clot was discovered in one of her arteries and it was confirmed did suffer a heart attack. She was transferred to ICU from there.
I spoke with her this morning ( actually yesterday morning) to see how she was doing. She said she was very tired and felt worse today then she did yesterday.
I spoke with Baya (her daughter) later in the day and she said she was doing OK, but not wanting to eat and just very tired.
I received a call around midnight from Baya stating that her Mother was not expected to make it through the night.
Between the afternoon conversation with Baya and when she called at midnight Shi had gone into cardiac arrest twice.
Chuck and I and Kim (KIPPY) along with Baya, her friend and daughter were at her bedside when she passed away.
My apologies if I seem to be rambling. I'm just pretty much at a loss for words right now.
Shi loved all the members here. She will be missed greatly.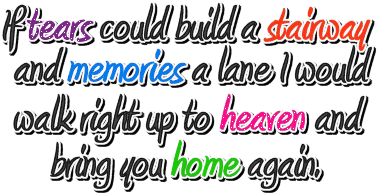 ​
Cindy